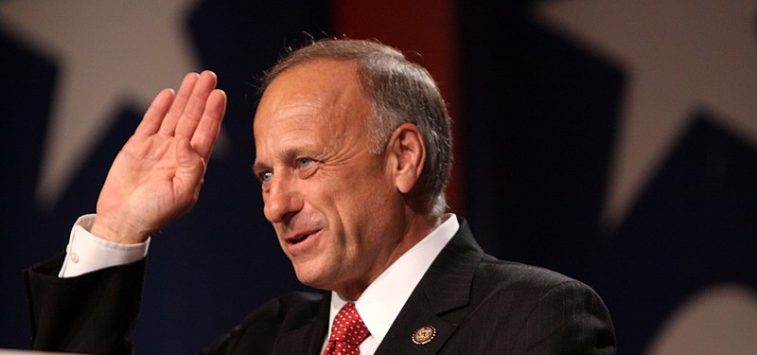 Steve King Paid Son, Daughter-In-Law $1,076,700 From Campaign War Chest
Congressman Steve King (R-Iowa) has served in the United States Congress since 2003. Beginning in 2004, he began paying his son, Jeff King, to work on his congressional campaign. In 2010, King began paying his daughter-in-law, Jeff's wife Lindsay, as a staffer as well. Public records reveal that the couple has now received over a million dollars in total compensation from King's political organization. Those salaries are paid with donated political money, not taxpayer dollars.
Disclosure records show King has paid son and daughter-in-law $1,076,700 in total compensation from his campaign coffers. Since 2004, Jeff King received $823,742.87 in salary and reimbursements, while Lindsay King got $253,700.45.
The financial arrangement was part of a feature article by The Des Moines Register in 2017 titled, "Steve King employs family as year-round campaign staff, an unusual approach in Congress."
The Iowa newspaper quoted a campaign legal expert as saying that the arrangement raised a "red flag." The reporter, Jason Noble, wrote that after reviewing finance data from other members of the Iowa congressional delegate that "the salaries paid to Jeff and Lindsay King are atypical in their amount and frequency and in the fact that they're paid to family members. Indeed, U.S. Reps. Rod Blum and Dave Loebsack have spent less on their entire campaign payrolls over the last four and a half years than Steve King has spent on Jeff and Lindsay King alone."
King adamantly defended the transactions and touted his management: "I make sure everybody does their job around me. If there's any complaint about it, it's that I work people too hard." The paper notes that according to a different ethics professional, the disbursements are "within the going rate for campaign services."
The congressman is by no means a rich man. In July 2019, King filed an amended disclosure report that listed his net worth between negative $109,986 and $349,999. The District of Columbia's Office of Tax and Revenue has assessed the congressman's D.C. condo to have a proposed value of $448,260 for 2021. King's Iowa property is assessed at $129,740.
Since 2003, Congressman King has been on 31 government sponsored foreign trips that cost $157,603 to taxpayers, disclosure forms reveal. During that time, he also participated in 38 privately sponsored trips that carry a price tag north of $184,000. One of those excursions, in August of 2018, resulted in problematic headlines for the representative, when the Iowa politician used a European trip funded by a Holocaust memorial group to meet with a far-right group with historical Nazi ties.