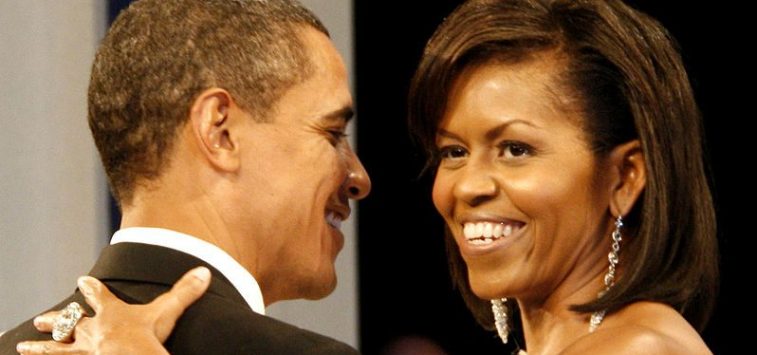 Obama's Path to the Billionaire Post-Presidency
Former President Barack Obama's guest appearance on his wife's debut Spotify podcast this week marks the latest lucrative chapter in the former first family's speedy transition to becoming outright media moguls. The "intimate conversation" with host Michelle Obama, the former first lady of the United States, is about "community, the love that powers our relationships, and their life after the White House." And it is yet the latest example of how this ex-president used the fame and access of his time in the Oval Office to later enrich himself.
In 2011, journalist Abby Phillip wondered "How rich is Obama?" She noted, "he puts himself in the same category with 'as-rich-as-Warren-Buffett' with an alarming amount of frequency." The same day Phillip tweeted that inquiry, Obama heralded his wealth in a speech on deficit reduction: "I don't need another tax cut. Warren Buffett doesn't need another tax cut."
Public filings would later show that in 2011 the Obamas made $1,730,000. A significant portion of that came from book royalties. A handsome sum, to be sure, but peanuts compared to what they would be making just months after leaving office.
In 2017, Forbes reported that Obama had "made $20 million since arriving in Washington."
Precisely how much wealth Obama has accumulated since concluding his time in office ended is unknown. What is known: His post-presidency has been historically lucrative. A review of publicly reported information related to his business endeavors suggests that Obama could be on his way to becoming a post-presidency billionaire.
Even more impressive, in some respects, is how he will have achieved this goal while constantly decrying exorbitant wealth. As he said while in office: "I want to be clear, we're not trying to push financial reform because we begrudge success that's fairly earned. I mean, I do think at a certain point you've made enough money."
It's remains unclear if Obama has surpassed his own subjective "made enough" boundary point.
BOOK DEAL
One of the first things the Obamas did upon returning to private life was ink a "mystery" book deal that was estimated to be worth a record $65,000,000. The publisher celebrated the signing — but the terms of the deal were not disclosed.
Michelle Obama's book came first and was a runaway success. Becoming quickly positioned itself on a path to become the best-selling memoir of all time. Mrs. Obama then embarked on a multi-state stadium tour to promote her work. The New York Post reported that tickets to see the former first lady were going for "obscene" prices: "Nosebleed seats start at $30, while front-row seats go for $3,000." The paper added this nugget for perspective: VIP tickets to Beyoncé and Jay-Z's tour only went for $1,000-a-pop. The unrivaled success of the book has upped the pressure on the former president. Anonymous sources close to Barack have repeatedly made it known that he is quick to note "he's writing this book himself, while Michelle used a ghostwriter."
It is unclear how much additional income the duo has made on top of the rumored blockbuster advance given for Mrs. Obama's memoir. However, her autobiography was incorporated into a "top secret" documentary that hit Netflix this spring.
NETFLIX
Netflix has become another source of fortune for the former public servant. In the spring of 2018, the streaming giant announced a partnership with Obama's "Higher Ground" production company.
For those who followed the Obama presidency, this seemed to be a predictable fit. Obama had close ties to Netflix executive Ted Sarandos, who was a bundler for his campaign. Nicole Avant, who is married to Sarandos, served as United States' ambassador to the Bahamas in his administration. The strong personal connection to Sarandos complimented the 44th president's documented desire to get involved in Hollywood decision making. In 2012, Harvey Weinstein, disgraced Tinseltown power-broker and major Obama campaign backer, revealed that he turned down a movie pitch from the sitting president.
So how much was the deal with Netflix, a corporation whose current market cap exceeds $215 billion, worth? Those terms were not made public either.
The Observer reported "given that the streamer recently gave Ryan Murphy somewhere in the vicinity of $300 million and Shonda Rhimes $100 million, we can safely assume the Obamas are being paid handsomely for this new endeavor." The New York Post cited an industry source who estimated the arrangement could be valued north of $50 million. It would not be surprising if the deal turns out to be worth somewhere between the Murphy and Rhimes haul, as Variety assessed "signing the Obamas is the latest, and by far the biggest, in a string of moves by Netflix to lock up the entertainment industry's highest-profile producers in exclusive production and development pacts."
The Netflix partnership has been kind to other members of Obama's inner circle. Ferial Govashiri, who served as a former personal aide to the president, was hired to serve as "chief of staff" to Netflix's chief content officer. That position is occupied by Ted Sarandos, who in recent days has been elevated to co-CEO. In March 2018, Obama's former national security advisor, Susan Rice, was appointed to Netflix's board of directors. Rice is currently on Joe Biden's final list of potential vice presidential nominees.
A lawsuit filed against a black business owner proves the Obamas believe their "Higher Ground" production company has long term media ambition and value. Prior to the band formerly known as Lady Antebellum moving to legally muscle a black artist known as "Lady A" into allowing them to use the stage name, the Obamas went to war against a businesswoman whose company went by a similar name. They sought to cancel the trademark owned by Hanisya Massey, an entrepreneur whose "Higher Ground Enterprises" has reportedly existed for more than 10 years. Massey argues that their name could bring harm to her brand "because if you Google this, this is the only thing that comes up. And I am pretty much a little needle in the haystack at this point."
SPOTIFY
In summer 2019, the Obamas agreed to an exclusive podcasting deal with Spotify. A press release stated that the former first family will "develop, produce, and lend their voices to select podcasts, connecting them to listeners around the world on wide-ranging topics." Yet again, the financial terms of the deal were not disclosed. It's safe to think the amount is significant, as the Swedish music giant recently inked a $100 Million pact with former "Fear Factor" host Joe Rogan, and also added reality superstar Kim Kardashian to their roster.
THE BILLIONAIRE PATH
Maureen Dowd famously roasted the Clintons for their Smithsonian "tin cup" and derided them for a "money-grubbing" 700 speech slog that "stockpiled a whopping $240 million" fortune during the 15-year span between the end of Bill's term and Hillary's 2016 run.
The Obamas may have already eclipsed the Clintons' post-presidency earnings, but they're doing it a different way. The "tin cup" is not at the forefront, though they are heavily fundraising for the Presidential Library. The Obama media empire is already built upon an Oscar statue, Emmy nominations, a historically significant memoir, and presumably some sort of forthcoming industry recognition for the podcasting. The critically acclaimed content will only help them negotiate extensions with current partners or drive up the price in future negotiations with new clients.
None of this considers how the duo are investing their fortune, the amount brought in from six-figure speaking fees, or how Obama could leverage a possible Biden presidency to his financial advantage. It does not seem unreasonable to think that a conglomerate like Google would attempt to recruit Obama, given their concerns over antitrust investigations. After all, Google had a "remarkably close" relationship with Obama's "Android Administration."
After leaving office, the Obamas purchased an $8.1 million mansion in Washington D.C.'s tony Kalorama neighborhood. They acquired an estate on Martha's Vineyard for nearly $12 million in 2019. Their real estate empire may be expanding into the Pacific too. Nearby residents and workers on a Hawaii development that includes a guard shack have signed non-disclosures, but a local publication says they "look forward to a very presidential neighbor."
While lack of public financial disclosures make it unclear how far along the path to becoming a post-presidency billionaire Obama is, he let it slip in a 2018 speech that he was "surprised" by "how much money I got." After the quick boast, he was quick to pivot back to humility by comparing himself to titans of industry: "I don't have half as much as most of these folks or a tenth or a hundredth. There's only so much you can eat. There's only so big a house you can have. There's only so many nice trips you can take. I mean, it's enough."