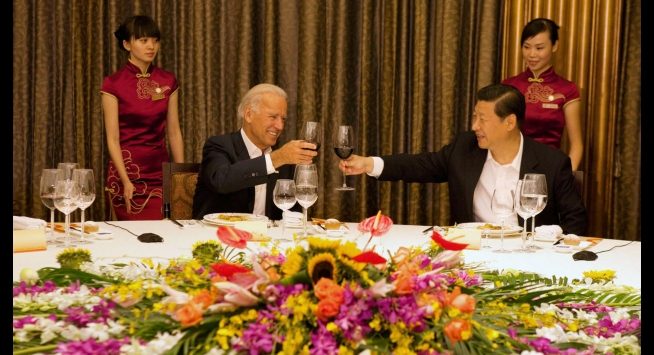 Communist Chinese Outlets Look Forward to 'Softer' Biden Administration
As President Trump mulls new "hard-line measures" against Beijing, Chinese Communist Party propaganda suggests that the Xi regime is looking forward to a "softer" approach to diplomatic relations with the Biden administration.
The "tightly controlled" state media has dedicated a significant amount of time to bashing outgoing Secretary of State Mike Pompeo, while writing about his proposed successor, Tony Blinken, with curiosity.
One CCP-linked outlet, CGTN, featured a column that pondered, "Will Blinken Be Good for China?" The piece was penned by Harvey Dzodin, who the publication lists as a "Senior Fellow" at the Center for China & Globalization, a Beijing based think tank. Mr. Dzodin's biographical page states that before becoming a pundit for Communist media organs such as CGTN and China Daily he was a "Counsel" to President Jimmy Carter, an attorney with the Federal Trade Commission, and "Director and Vice President at ABC Television in New York."
Dzodin continues the Communist media tradition of name calling by labeling Pompeo a "shrill hawkish bully" while viewing the guitar-playing Mr. Blinken as "decidedly more win-win than zero-sum." Dzodin writes that he believes that the U.S. is "no longer as powerful" as it once was and that the "American Century is now the Chinese and the Asian Century." He concludes by saying that "only time will tell" if Blinken will be definitively good for China.
The Global Times, the most hawkish organ of the CCP media apparatus, has published pieces that discuss the Biden administration's potential maneuvering as "softer" and "predictable."
Recent propaganda quotes university experts from China and the United States. One academic, Li Haidong, "called the Biden team a group of 'elites' and very 'predictable' in foreign policy with a multilateral mind-set that will help restore US leadership and strengthen connections with allies." A different educator opined on Blinken, "given his previous rhetoric on China-related issues and his past experience, his stance is softer than that of the current administration, which is likely to create a positive environment for the China-US relationship."
Although the Communist state media has made clear they anticipate a more conventional, predictable, and softer tone from Biden and Blinken, the propaganda publications have at times also hedged their curiosity with caution.
An aggressive Global Times editorial declared that "Biden faces litmus test to truly respect multilateralism" – while expressing disapproval of Trump's "America First" mentality.
A different article in the same publication quotes a commentator who asserts the Biden Administration is "more likely to follow rules as they take a step-by-step approach to foreign policy" while noting his personnel choices could be "more like an iron fist in a velvet glove." Another entry states that Team Biden is "unlikely to take a soft tone on China, but they generally go against the 'cold war' and 'decoupling' touted by President Donald Trump." The piece adds that "unlike in 2009 when the Obama administration took office, the US now faces a more powerful China."
While Biden continues to build out his team with Blinken as his selected chief diplomat, it remains unclear as to what role former Ambassador Max Baucus who seemed to enjoy his Chinese state media charm offensive this year, will play in guiding American policy.
In the meantime, Blinken will begin to face questions from American media and politicians about his views on Beijing. And he will likely have to explain why his influence peddling consulting firm recently removed language from its website that "promoted its work in China."