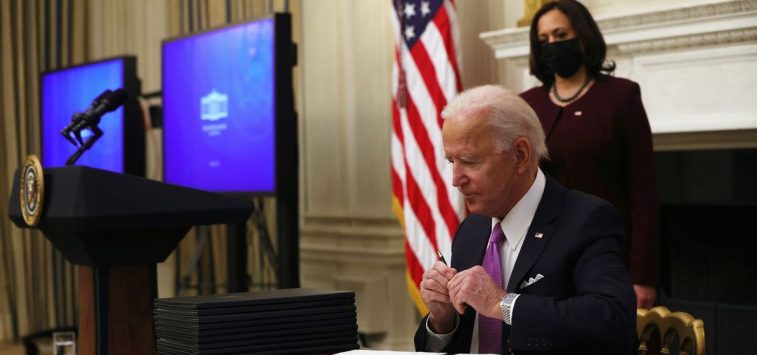 50 Days In, And We're Starting From Scratch
Today marks the half-way point for the Biden administration's first hundred days in office, fifty days since we launched our Government Transparency Project holding this new team to the commitments it made to the American people. It's been a mixed bag.

On his first full day in office, President Biden pledged that his "entire administration will always be honest and transparent with you about both the good news, the bad. We will level with you, when we make a mistake. We'll straight up say what happened." But the work of governing has proven tough for this leadership. Press Secretary Jen Psaki struggled to answer so many questions in the early days of her press briefings that her assertions that she would have to "circle back" with reporters became a literal meme.
More troubling, several administration officials, including Vice President Kamala Harris, have regularly and falsely claimed, on issues ranging from coronavirus vaccine production to immigration policy, that Biden's team was forced to start "from scratch." The assertion earned Harris two Pinocchios from The Washington Post's fact checker. The resistance to own programs, coupled with officials' routine insistences that the administration simply needs more time to get its feet under itself – started on Psaki's very first press briefing and culminating in her briefing yesterday, 49 days into the Biden presidency – raise questions on Biden's commitment to taking responsibility for his policy decisions and doing the hard work of governing.

As our Day One tracker catalogues, Biden committed to change policy on a diverse set of issues on his very first day, from the fight against COVID-19 to immigration policy to LGBTQ issues and on. President Biden signed a historic number of Executive Orders on that first day, establishing a promised COVID-19 Pandemic Testing Board, mandating mask-wearing on federal grounds, and sending the U.S. Citizenship Act of 2021 to Congress.
However, the roll-out of his new immigration policy has caused a surge of migrant children at the U.S. border, overwhelming facilities and creating a real humanitarian crisis. LGBTQ rights advocates have also been left questioning when or if the administration will fulfill its campaign promises to them.

Daily news briefings from the White House and agencies such as the State Department provide platforms for this administration to hold itself to the commitments to transparency and accountability it made on the campaign trail.
We look forward to President Biden's planned address to the nation this evening. And we commit to keep watching, tracking, and holding accountable this government.