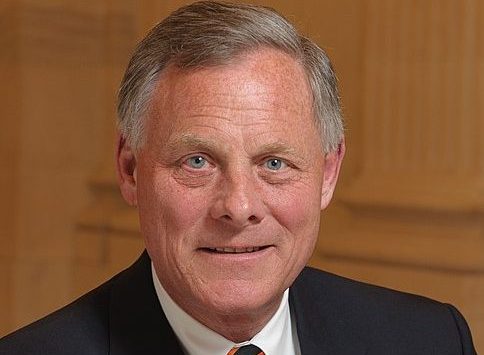 FBI Serves Senator Warrant Over Covid-19 Stock Sales
On Wednesday, May 13, the F.B.I. served a search warrant on Richard Burr, a powerful Republican senator from North Carolina. As a result, Burr turned over his cellphone to federal agents. The Los Angeles Times reports the F.B.I. also served a warrant to Apple for access into the senator's iCloud account.
Burr, the Senate Intelligence Committee chairman, sold off of his stock portfolio while receiving briefings about the early spread of Covid-19. As Pro Publica first reported, the dump via a flurry of trades came "after reassuring the public about coronavirus preparedness."
In March, NPR unearthed secret recordings of Burr "privately rais[ing] alarm" to a "small group of well-connected constituents" over lunch at an exclusive Washington social club. His warning was clear: "There's one thing that I can tell you about this: It is much more aggressive in its transmission than anything that we have seen in recent history. It is probably more akin to the 1918 pandemic."
Burr has previously declared his innocence saying he relied "solely on public news reports" to guide his trades and called for a "complete" and "transparent" Senate Ethics Committee review of his conduct. When asked by a Raleigh-based news network about the warrant development, his team declined to comment.
The trading has been subject to much media speculation. In March, former federal prosecutor Renato Mariotti wrote a column suggesting that Burr's trading was "easier to condemn than prosecute." He noted that Burr was only one of three members who voted against the STOCK Act of 2012 which prohibited members of Congress from "using nonpublic information derived from their official positions for personal benefit." As the cellphone seizure news broke, former United States Attorney for the Southern District of New York, Preet Bharara, tweeted his own analysis: "This is a very, very big deal. This is not something the FBI or DOJ does lightly. It requires layers of review, the blessing of a judge, and consideration of severe reputational harm to a sitting US Senator."
On Thursday May 14, Burr temporarily stepped down from his leadership post on the Senate Intelligence Committee.
But he's not the only U.S. senator to come under F.B.I. scrutiny. Senator Dianne Feinstein, the powerful Democrat from California, provided written answers to the law enforcement agency, her spokesman confirmed to the New York Post. And Senator Kelly Loeffler, the newly appointed Republican from Georgia, has turned over records to the Department of Justice, Securities and Exchange Commission, and Senate Ethics Committee, according to the Atlanta Journal-Constitution.