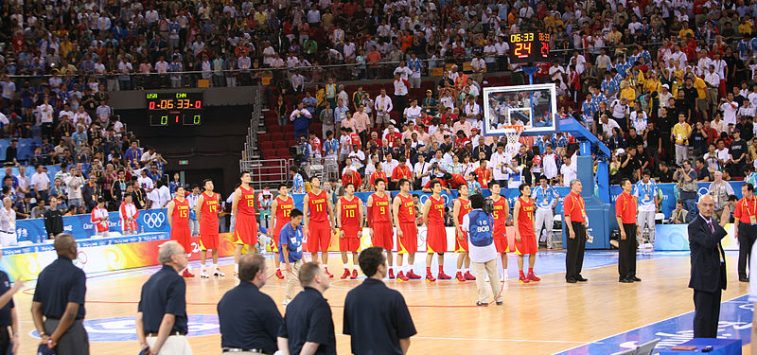 Chinese State Media Taunts NBA After Blocking Broadcast
China will refuse to broadcast National Basketball Association games — even if the league resumes play this season. The Global Times, the hawkish state media mouthpiece for China's Communist Party, published an intimidating column announcing that the moves the league made to repair the relationship with Beijing are "not enough." The rejection is further bad news for a league facing revenue issues and highlights the pains that American industries will face in China as we focus on economic revitalization in response to Covid-19.
According to the Communist outlet, the N.B.A. recently named the first native Chinese executive to oversee their China operation. That executive, Michael Ma Xiaofei, is reportedly the son of a founding figure of China Central Television's (CCTV) sports channel who brought American basketball to Chinese television in the 1990s. The propaganda outlet quoted a Chinese basketball commentator who made clear that the hiring was insufficient to resume business, but that relations could be repaired if the "[Daryl Morey] incident is properly handled."
Daryl Morey is the general manager of the Houston Rockets franchise. After he sent an innocuous tweet in support of Hong Kong freedom protests last fall, China went berserk. The Chinese Basketball Association, headed by former Rockets' superstar Yao Ming, ended ties with the team. Tencent, a Chinese media company with a $1.5 billion streaming deal to air games, halted their broadcasts. League commissioner Adam Silver said that China wanted Morey fired, only to be humiliated by a Chinese foreign minister who insincerely insisted no such demand was made.
As China flexed its financial and political muscle, Morey backtracked by offering an apology: "I did not intend my tweet to cause any offense to Rockets fans and friends of mine in China. I was merely voicing one thought, based on one interpretation, of one complicated event. I have had a lot of opportunity since that tweet to hear and consider other perspectives." He added that he was thankful to the team's Chinese fans and sponsors. But it was not good enough for the Xi regime.
More grandiose public displays of appeasement toward the Communist nation didn't do the trick either. The Rockets' owner, Tillman Fertitta, rebuked his own employee. Houston superstar James Harden apologized and added "we love China!" LeBron James accused the executive of being misinformed while lamenting "so many people could have been harmed, not only physically or financially, but emotionally and spiritually." Joseph Tsai, owner of the NBA's Brooklyn Nets franchise, was accused of defending the Communists after issuing a lengthy statement.
It wasn't just the N.B.A. who felt the pain, their broadcast partners did too. ESPN was accused of "kowtowing" to Communism by avoiding critical coverage of the political brouhaha. The network issued a memo that "explicitly discouraged any political discussion about China and Hong Kong." While dancing delicately, ESPN embarrassingly displayed China's propagandized "Nine-Dash" territorial map in a TV graphic. Robert Iger, who at the time was the CEO of Disney (parent company of ESPN and ABC), refused to defend the Hong Kong freedom protests because "to take a position that could harm our company in some form would be a big mistake."
Iger's sentiment was a far cry from N.B.A. legend Shaquille O'Neal. The 4-time world champion spoke in support of Morey and liberty: "One of our best values here in America is free speech. We're allowed to say what we want to say and we are allowed to speak up about injustices and that's just how it goes. Daryl Morey was right. Whenever you see something wrong going on anywhere in the world, you should have the right to say, 'That's not right' and that's what he did."
By February 2020, the situation had gotten dire. The N.B.A. was projected to lose "hundreds of millions of dollars" despite all of the overtures the league had made since the tweet. In March, the N.B.A. suspended their season indefinitely in response to the Covid-19 plague that originated in Wuhan and spread globally after a failed coverup by the Xi regime went catastrophically awry. This further jeopardized revenue for the league, and cost thousands of stadium employees their jobs.
The N.B.A. example is a warning to major American entities of the continued cost of doing business with a ruthless Chinese regime, which includes abusive coverage from state media. The public displays of appeasement have failed. Hiring someone with Chinese ties to oversee the league's operations isn't enough.
Instead, we're left watching Communist state media taunt an American institution by quoting random internet commentators saying things like: "We did not and will not forget what he has done. When the NBA and Morey own their mistakes, I will consider welcoming the league back."