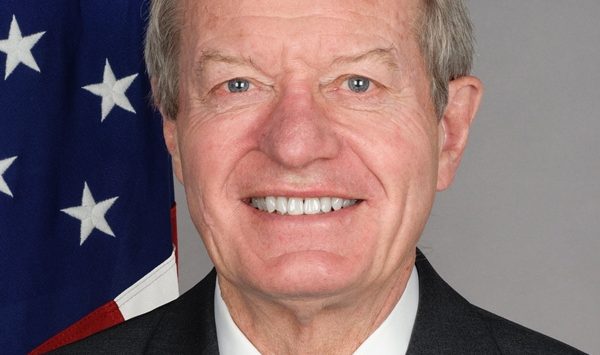 China Champions Former Senator Who Compared USA to Nazi Germany
The Communist Party of China's (CCP) sophisticated state media network has been working overtime to defend the authoritarian Xi regime and undermine the United States. This week, they found a new champion to help with their America bashing: former U.S. Senator and ambassador to China, Max Baucus.
During an interview on CNN, Mr. Baucus declared: "The administration's rhetoric is so strong against China, it's over the top. We're entering an era which is similar to Joe McCarthy back when he was red-baiting in the State Department and attacking communism, and a little bit like Hitler in the '30s."
The baffled news anchor responded "Are you being provocative, or do you really believe that there are parallels (to Hitler's Germany)?"
Baucus doubled-down: "I think we're moving in that direction. I'm not saying we're there yet."
Communist China's media organs wasted no time amplifying the sentiment to their advantage. The Xinhua News Agency ran a piece using Baucus's comments to bolster a call from a Chinese diplomatic agent to "end the blame game." The article was syndicated in their most prominent party mouthpieces: The People's Daily and The Global Times for maximum exposure.
The alarming rhetoric wasn't just fodder for the CCP's traditional press channels, it was also promoted and celebrated on social media. Xu Hong, China's ambassador to the Netherlands, tweeted: "Reason, justice and truth deserve a voice in the US!" while linking to the video clip of Baucus on CNN.
This was not the former senator's first eye-raising quote about China during the Covid-19 pandemic. In late March, Baucus appeared on MSNBC and tipped his cap to the Xi regime's handling of response to the virus: "I think that the big lesson here [is] that when you take charge and when you tell the entire country, Wuhan, other provinces what to do, they get in gear and get the job done… I take my hat off to China for doing so."
It has been reported that upon discovery of the novel coronavirus, Chinese scientists were ordered to "stop tests, destroy samples and suppress the news." Beijing then began hoarding global supplies of personal protective equipment (PPE), while failing to alert the world of the pending pandemic. After foreign nations were ravaged by Covid-19, they were forced to praise Beijing in exchange for much needed medical supplies that China had hoarded. All of this, and much more, occurred while the Xi regime vanished doctors and journalists who exposed the outbreak threat and subsequent coverup.
Since his career in the public sector ended, Mr. Baucus formed a consulting firm that provides services to Chinese businesses. He serves on a board of advisors to Chinese conglomerate Alibaba. When Baucus served as the Senate Finance Committee chairman, Time magazine wrote a column titled, "The Senate: A Millionaire's Club, Plus Max."  The publication spot listed his net worth, which at the time registered at "negative $40,000." The author suggested the senator might want to consider "finding another financial planner." Given his stature as diplomat-turned-consultant, he has likely followed that advice.