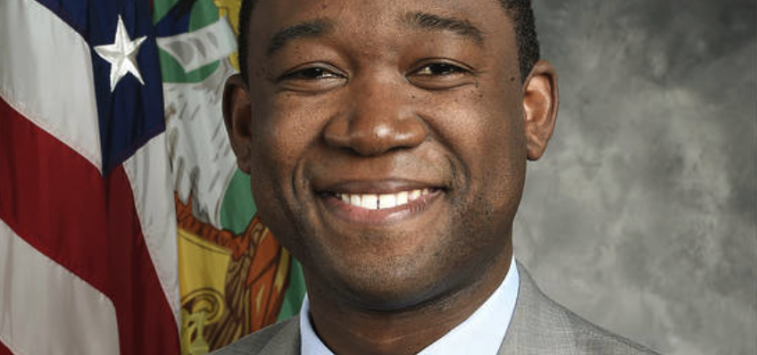 Biden Breaks Ethics Pledge By Nominating Obama Foundation President
The Biden-Harris transition team continues to build out its proposed leadership — leaning heavy on former Obama administration officials. At the end of November, the team announced Wally Adeyemo, president of the Obama Foundation, as its nominee for deputy secretary of the Department of Treasury. Adeyemo's track record as a deeply embedded cog in the Obama machine has progressives greeting his appointment with guarded optimism. Well-acquainted with the empty promises of the 44th president and his coterie, who gave lip service to liberal policies while in power then cashed huge corporate paychecks immediately after, those on the left have good reason to be concerned that Adeyemo is just a Wall Street wolf in leftist clothing.
After leaving the White House, Adeyemo became a senior adviser at BlackRock, the global investment firm dubbed "another government in waiting" due to the number of former Obama administration staffers joining up, and served as "a former chief of staff to [BlackRock chairman and CEO Larry] Fink." Adeyemo's ties to the financial sector garnered criticism from progressives frustrated that he "followed a well-worn path of Obama alums seeking to cash in, and went to Wall Street. And not just anywhere on Wall Street—he went to BlackRock, the world's largest financial firm."
The appointment would appear to conflict directly with the ethics plan Biden released in September. Adeyemo's BlackRock work would appear to disqualify him for service in the Biden administration. After all, the ethics plan clearly bans "leaders at fossil fuel or private prison companies." And BlackRock has ignored sustained calls to divest itself from private prisons, fossil fuel, and weapons manufacturers. In fact, the firm remains one of the U.S.'s "biggest investors in private prisons" and it is the second-largest shareholder of the two largest private prison operators in the country.
(Geo Group Inc, CNN Business, Accessed 12/07/20)
(Corecivic Inc, CNN Business, Accessed 12/07/20)
In August 2019, two years after joining BlackRock, Adeyemo cemented his position in the Obama orbit and became the first president of the Obama Foundation in what was reported as "a perfect rendition of the Washington-Wall Street revolving door." His salary at the nonprofit is reported to be $600,000, which would track with the over-$200,000 compensation the Obama Foundation disclosed for the five months of 2019 that he held the position.
Though his corporate work flouting Biden's ethics standards concerns progressives, Adeyemo's close relationship with Senator Elizabeth Warren (D-MA) have some on the left holding out hope that he may not be "yet another Wall Street fox in the Treasury chicken coop," but an ally on their issues. Indeed, his support for liberal nonprofits – he sits on the board of Demos and is a member of the Aspen Strategy Group – may give the appearance that he is a committed liberal, but these organizations simply further illustrate his fixed position in exploiting an appearance of progressivism. Demos, which touts itself as a progressive think tank, was highlighted in a Center for Public Integrity study as one of a cadre of liberal "groups decrying 'dark money' [that] use shadowy money themselves." Dozens of Obama alums work for or are members of the Aspen Strategy Group.
It may be this status as an established cog in the Obama machine that drove Adeyemo to contribute $2,800 to Biden's presidential race in September 2020 — to bring him to the former vice president's attention. The contributions are the only sizable political donations Adeyemo has made.
But progressives hoping that Biden nominees will usher in transparency and fairness to government institutions will likely be disappointed in Adeyemo. As deputy executive secretary for the Treasury Department, the same agency Adeyemo has been nominated for in the Biden administration, he led an initiative to politicize and slow responses to Freedom of Information Act (FOIA) requests, especially those from the press, obstructing the release of information in the wake of negative press coverage. In 2009, the legal release of then-Treasury Secretary Timothy Geithner's calendar in response to an Associated Press FOIA request led to a series of news stories outlining Geithner's close relationship to Wall Street. Adeyemo responded by instituting a layer of review by political appointees, requiring that "every FOIA request from a reporter, regardless of the information requested, was subject to sensitive review." The program was criticized for running "counter not just to the spirit and the letter of the Obama administration's pledge to unprecedented transparency, but also to the spirit of the Freedom of Information Act itself," delaying release of information for weeks or months.
Adeyemo's nomination will raise alarm bells for those looking for transparency and fairness in our government institutions. His announcement further illustrates that Biden intends to rebuild the administration that he served as vice president, as close to its original form as possible. That administration was "one of the most secretive… one of the most elusive… one of the most punitive toward whistleblowers and leakers" and "actively worked to conceal important information from the public," behaviors that Adeyemo engaged in.